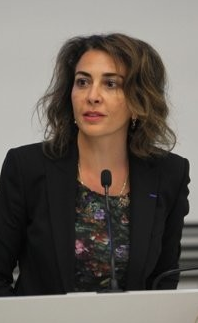 Prof. Christine Kaddous
– Professor,
University of Geneva
– Director of the MEIG
– Director of
Centre for European Legal Studies
(CEJE)
Christine Kaddous is full professor at the University of Geneva since 2002. She has been or is a visiting professor at the Montesquieu University in Bordeaux, Nice Sophia Antipolis, Paris II (Panthéon Assas) as well as the College of Europe. She is Director of Centre d'études juridiques européennes (Centre d'excellence Jean Monnet) and of the Master of Advanced Studies in European and International Governance (MEIG Programme). She holds a Jean Monnet Chair ad personam.
Christine Kaddous pursued her legal studies in Switzerland (BA and PhD at the University of Neuchâtel), the United Kingdom (MA in Law, LL.M. (Cantab) at the University of Cambridge) and Belgium (MA in European Studies at the Université Libre de Bruxelles). She was admitted to the Bar and was a practicing lawyer for a number of years in the field of Commercial Law, first in Neuchâtel, then in Geneva.
She pursues her teaching and research activities in EU Law and International Law, Dispute Settlement, External Relations of the EU with an emphasis on the EU-WTO relations, and on the EU-Switzerland Bilateral Agreements
Christine Kaddous was President of the Swiss Society of International Law (Société Suisse de droit international, SSDI-SVIR) from 2008-2020. She is Vice-President of the Association suisse pour le droit européen (ASDE), a member of the Executive Committee of the Association suisse d'étude de l'intégration européenne (ECSA-Suisse) and a member of the Steering Committee of the Centre européen de la culture. She is also member of many national and international associations or societies related to her areas of expertise such as the Société française de droit international (SFDI), the International Law Association (ILA), the European Society of International Law (ESIL), the Commission pour l'Etude des Communautés européennes (CEDECE) and the Swiss Association Arbitration (ASA).
Since 2001, she is editor of the Collection 'Dossiers de droit européen' (DDE)/Studies in European Law, published today by Schulthess/LGDJ (Zürich/Paris) and member of a number of scientific review committees, namely of the Swiss Review of International and European Law (SRIEL, Revue suisse de droit international et européen – RSDIE), la Revue des affaires européennes/Law and European Affairs, the Journal du droit européen (JDE) and the Austrian Journal of Public and International Law (Zeitschrift für öffentliches Recht).
She is currently taking part in research projects in the fields of EU-Switzerland Bilateral Relations, international trade and development, investment and dispute settlement, and EU internal market (free movement of goods, persons, services and capital).
Areas of expertise:
EU Law, International Law, European and International Dispute Settlement, International Economic Law (including Investment Law), International Agreements concluded by the EU, EU-WTO Relations, EU-Switzerland Relations, Law and Politics in the areas of Free Movement of Goods, Persons, Services and Capital, Air and Land Transport, Public Procurement, Technical Obstacles to trade, Sustainable development (SDGs), Environment and Health Protection.