Conference by Dr José Romero: Internationalization of environmental policies: implementation and compliance – 10 March 2021, 1:00-2:15 pm (CET)
10 March 2021, 1:00-2:15 pm (CET)
The conference will consider how countries are internalising the objectives of international environmental treaties in their national legislation, policies and measures. The implementation of environmental policies and measures by countries takes place in a wide variety of national circumstances, depending on each country's political and institutional traditions, as well as its political will and economic and strategic interests. It also depends on national capacities, including financial and technological capacities.
These capacities make a de facto distinction between industrialised and developing countries, which is often reflected de jure in the treaties by a differentiation of objectives between industrialised and developing countries. The conference will explore this thematic, including the example of Switzerland.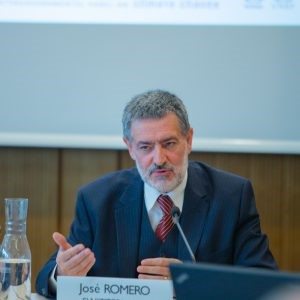 Dr José Romero Since 1996 in the International Affairs Division of the Federal Office for the Environment (FOEN). Head of Science at Environment International since 2014. Swiss National Focal Point for the Intergovernmental Panel on Climate Change (IPCC) and government representative in the IPCC Bureau. Swiss National Focal Point for the Intergovernmental Platform on Biodiversity and Ecosystem Services (IPBES). Represents Switzerland in the Group on Earth Observations (GEO). Previously at the FOEN, Head of the Rio Conventions Section and Swiss Focal Point for the United Nations Framework Convention on Climate Change (UNFCCC) and its Kyoto Protocol. He holds a PhD in physics from the University of Lausanne, Switzerland.