Highlight 8/2021 – Why do we need fisheries management to protect our oceans?
Sheilla Baldeon, 8 March 2021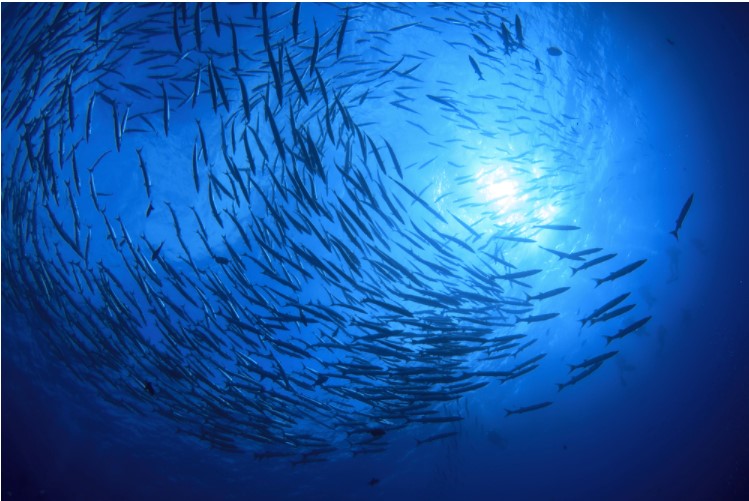 The ocean has produced approximately US$2.5 trillion in goods and services each year promoting economy and employment growth. However we are facing climate effects as consequences of bad practices of all countries since we have been producing more without protecting ocean resources. A proper fisheries management is mandatory to rebuild our relationship with the oceans and to reach sustainable production that could help fighting global hunger and food security.
Over the past decades, our oceans have absorbed more than 90% of the excess heat in the climate system and between 20-30% of CO2 which produces acidification affecting marine life resources. The ocean receives the impact of climate change by losing oxygen, becoming warmer and intensifying climate phenomenon such as El Niño and La Niña; and this it shown on migration of fish stock, coastal degradation, coral reefs loss, algal blooms, sea level and tropical storms intensity rise, among other effects.
The concept of "Blue Economy", which focuses on ocean management in sustainability production for economic growth, is shown as a good alternative to fight climate change and should be used at all levels. Blue economy relies on the good fisheries governance of the governments in all levels promoting cooperation and engagement of States and hard work with local communities.
In this regard, governments must adjust their legislation; apply strong actions to combat illegal, unreported, and unregulated fishing; invest in scientific organizations and studies for policymaking; increase marine protection areas to 30% by 2030 and promote aquaculture production, as fastest growing production system but as support of fisheries. As well as tackle the challenges of aquaculture by promoting its consumption, ensuring traceability of resources, and stimulating animal health to reduce food loss. To this end, the public-private partnerships alliances with innovative solutions are necessary for fisheries and aquaculture.
At international level, multilateralism is key through legally binding documents, cooperation, and capacity building since it is significant to engage countries to implement changes and reduce the impact of climate change in the most vulnerable regions such as: Small Island Developing States (SIDS) and Polar and coastal countries. In that sense, closing the fisheries subsides negotiations in the World Trade Organization is needed to make a big step to ensure the sustainable use and conservation of marine resources.
In addition, we need to work on covering the lack of education and awareness for all populations about the good source of nutrients and protein of fisheries and aquaculture products and ensured the protection of the ocean by reducing greenhouse gas emission and plastic use. To act consciously, it is essential to promote the consumption of the "Fish of the day" in local communities and support small-scale fishing by strengthen the capacities of men and women through international cooperation.
Finally, the solution of this matter should be addressed by main actors in the multilateral fora, regional, national, and local, mainly, promoting legislations and transparency to protect our ocean and aligning actions to the Sustainable Development Goals 14 of life below water and 13 of climate action.
Sheilla BALDEON, Why do we need fisheries management to protect our oceans?, Highlight 8/2021, available at www.meig.ch
---
The views expressed in the MEIG Highlights are personal to the author and neither reflect the positions of the MEIG Programme nor those of the University of Geneva.