Highlight 1/2023 – Moving beyond tokenism: Intersectionality of women in peace processes
Gwendoline Kwankam, Sondra Cheong, and Maxine Moreau, 4 January 2023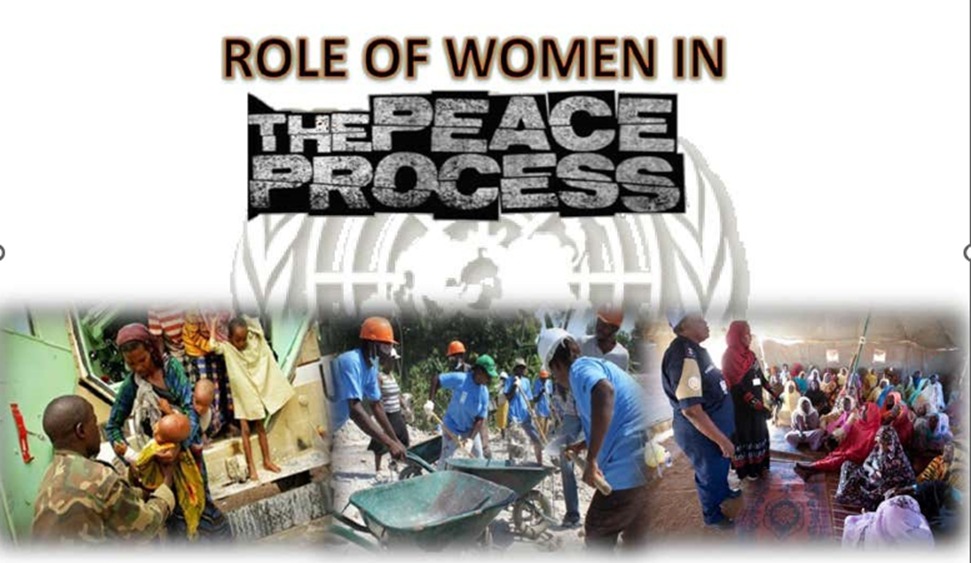 Sanam Anderlini, a peace activist said, "wherever war and violence exist, women exist — and they have things to tell us". While some progress has been made to include women in peace processes, since the passing of the UN Security Council Resolution 1325 in 2000, meaningful participation of women in decision making is still lacking.
It can be argued that the efforts to include women in peace processes have most times been in the form of tokenism. Organizations responsible for peace processes often hire women only to keep the 50-50 gender balance quota, but most women begin in positions that they are overqualified for. The existing challenges associated with patriarchal cultures, socio-economic backgrounds, gender-based violence, lack of access to protection and the less importance being attached to women's issues at the political level can be attributed to this situation.
As a solution, the concept of intersectionality has been proposed to better understand the complex contexts and barriers of women's participation in peace processes since it gives attention to the relationships between experiences of marginalization, power dynamics and structural inequality. Intersectionality will narrow down what is known as "gender binary assumptions" and stereotypes and recognize women as autonomous actors and meaningful contributors to a more peaceful world. This understanding will then inform the creation of sustainable policies that will give due consideration of women in peace processes and move beyond tokenism.
Women can prevent violence and provide long term security by moderating extremism. In Pakistan for example, activist Mossarat Qadeem has a decade of experience deradicalizing extremists by working with legislators, religious leaders, and schools to talk young men out of committing suicide attacks. Her organization, PAIMAN Alumni Trust, has trained more than 655 mothers to deradicalize 1,024 young men and boys, rehabilitating them and reintegrating them into society.
Additionally, when women are more involved in peace negotiations, agreements are more likely to last 20% for 2 years agreements and 35% for 15 years agreements. Women strengthen peace process by promoting dialogue and building trust. An example is Sri Lanka in 2006 when Visaka Dharmadasa, the founder of Parents of Servicemen Missing in Action and the Association of War-Affected Women was part of the peace deal talks between the leaders of the Liberation Tigers of Tamil Elam and the Norwegian negotiators. It would, therefore, be a huge error not to take advantage of the wisdom that women can contribute to successful peace processes.
Important to this is the need for a mindset shift amongst policymakers and a move away from a patriarchal approach to a more inclusive one, which considers women in decision making processes. We must start by understanding the reasons why women are underrepresented and the true meaning of gender equality to establish and implement sustainable policies. According to the OECD, while we face several problems such as sluggish economic growth and aging societies, there is a clear increase in education provided to young women. Further, eliminating discriminatory social institutions leads to a benefit to women's education and labour force participation and added 12 trillion USD to the global economy, which was 11% of the global GDP in 2011. As such, there is no reason for women to be left behind men in the economic, political, and social spheres of decision making. Leaders should, therefore, take this into consideration and appreciate that women can economically contribute to society, and by extension can be mediators, peace makers and negotiators in peace processes.
Equally important, is the need to define meaningful intersectional participation by women in peace processes and decision making. This includes clear and non-discriminatory recruitment guidelines which must take into consideration diversity among women in terms of race, age, nationality, sexual orientation, disability and even lived experiences. A definition of a minimum standard of participation which includes quotas is also necessary and must prioritize participation and leadership, including in senior decision-making positions. Further, there must be an established enforcement and monitoring mechanism to ensure transparency, accountability and continuous improvement.
The inclusion of women in peace processes cannot be over emphasized for the benefits it brings. The fact is that women remain largely among those most impacted by conflict, and while peace is necessary for the successful implementation of the 2030 Sustainable Development Goals, conflict is one of several factors impeding progress. Women, therefore, have the potential to change this and are integral to the realization of SDG 5 (Gender Equality) and 16 (Peace and Justice). Accordingly, policymakers must adopt an intersectional approach in understanding the barriers to the meaningful participation of women in peace processes and thereby adopting sustainable and inclusive policies to guarantee the inclusion of women in decision making processes, and to ensure that no one is left behind.
Gwendoline Kwankam, Sondra Cheong, and Maxine Moreau, Highlight 1/2023 – Moving beyond tokenism: Intersectionality of women in peace processes, 4 January 2023, available at www.meig.ch
The views expressed in the MEIG Highlights are personal to the authors and neither reflect the positions of the MEIG Programme nor those of the University of Geneva.