Highlight 4/2023 – Increasing militarization and feminist foreign policy: Compatible or worlds apart?
Svetlana Ryzhik, John Mendy and Jamshidjon Khayrullaev, 24 January 2023
Keywords: militarization, feminist foreign policy, gender equality, disarmament, women empowerment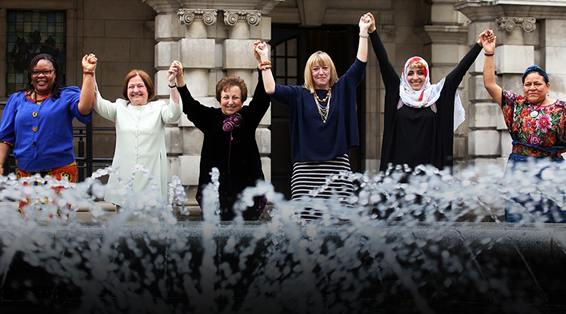 Background
The underlying factor of increased militarization is the philosophy of war, the essence of which is to solve acute socio-political and economic issues. While before the mid-20th century militarization occurred in the pre-war and war years, after World War II this phenomenon began to gain unprecedented momentum, even in peacetime. Today, the huge expenditure in the military sphere, the assimilation of nuclear weapons by states, and the uncontrolled arms trade are undoubtedly challenges to international security. Therefore, maintaining world peace and stability requires a more holistic approach from countries, mainly in their foreign policy.
Shift to "Feminist foreign policy"
Today, within the political circles of various countries, interest in the adoption of a feminist foreign policy (FFP) is growing. In spite of this fact, the fields of international arms control, nonproliferation, and disarmament remain on the sidelines of the trend toward gender integration. A 2019 study by the UN Institute for Disarmament Research (UNIDIR) found that gender inequality persists in disarmament diplomacy, with women comprising just 32 percent of participants in disarmament-related meetings over the past 40 years. Given the fact that the trend of adopting an FFP is a fairly new phenomenon, in the short term, women's participation in militarization issues will undoubtedly increase.
In 2014, the Swedish government adopted an FFP, which signaled a substantial change in its external conduct. Its pronounced ambition was to become the "strongest global voice for gender equality and full employment of human rights by all women and girls". Sweden's FFP platform also signals a strong support for United Nations Security Council Resolution (UNSCR) 1325, adopted in 2000, and related resolutions on women, peace, and security. Since 2014, six countries have adopted and declared FFPs and/or feminist international assistance policies (FIAPs), embedding gender equality as the central purpose and key goal of these commitments.
The advancement of a distinct FFP was closely linked to Sweden's Foreign Minister Margot Wallström, who has emphasized both the link between women's participation in global politics and sustainable peace and the notion that women's empowerment positively impacts on national and international security. In the interview to IPI Global Observatory she stated: "We know that more women mean more peace. If women are around the table where these peace terms are agreed, we will have more options on the table". From a practical perspective Ms. Wallström proposed to look at "3 Rs": rights, representation, and resources.
Women should always ask questions about how resources are being used. In 2021 world military spending surpassed $2 trillion. But should we prepare ourselves for the war or should we focus on peacebuilding? Talking about peace and security is crucial to having a long-term perspective. "Very often, what women bring to peacebuilding is a time perspective, because their role, traditionally throughout history, has been to think about the children, their futures," said Ms. Wallström.
Conclusion
Indeed, the increasing militarization and feminist foreign policy is a world apart. A feminist foreign policy (FFP) is a political framework centered around the wellbeing of marginalized people and invokes processes of self-reflection regarding foreign policy's hierarchical global systems. A FFP steps beyond the black box approach of traditional foreign policy thinking and its focus on military force, violence, and domination. The FFP offers an alternate and intersectional rethinking of security from the viewpoint of the most vulnerable. Hence it is a multidimensional policy framework that aims to elevate women and marginalized groups' experiences and to scrutinize the destructive forces of patriarchy and militarism, among others. Therefore, a feminist approach to foreign policy provides a powerful lens through which we can interrogate the violent global system of power that leave millions of people in a perpetual state of vulnerability. States that are implementing feminist foreign policy can pursue a deeper reflection on the militarism-trade nexus, harmful economic or trade policies, including the role of extractive industries, and their migration and asylum policies, to name a few. Some advocates of feminist foreign policies have discussed whether increases in military spending can be justified under these policies, or question specific military exports to countries with a poor record on women's rights and the best ways of dealing with authoritarian actors that oppress women and girls. Unfortunately, some of these debates, including on sanctions or the use of military force, are far from settled. The impact of emerging technologies on women and girls, from artificial intelligence to surveillance or the development of autonomous weapons, remains under-explored and unaddressed. Several feminist organizations are engaging with these governments to ensure that this trend influences real change in foreign policy practice. Particularly in the areas of gender equality and women empowerment in the pursuit of international security.
Svetlana Ryzhik, John Mendy and Jamshidjon Khayrullaev, Highlight 4/2023 – Increasing militarization and feminist foreign policy: Compatible or worlds apart?, 24 January 2023, available at www.meig.ch
The views expressed in the MEIG Highlights are personal to the authors and neither reflect the positions of the MEIG Programme nor those of the University of Geneva.